About Critique
I would like to send out a huge thank you to all the dancers who kindly offered to share their photos with you. They all confirmed that they had permission to share the photos and that we could critique their costume choices. I applaud their bravery!
You are welcome to add your comments, thoughts and critique in the comments section. HOWEVER, this is a lesson about costumes, and not about dancers or body image. We can talk about costumes suiting larger dancers, or those with a full bust, we can talk about a top lengthening the torso for short dancers, or trousers being too short for the taller dancers. We cannot use derogatory terms like "fat", "skinny", "lanky"…. If you wish to pick a dancer out of the group, please refer to them as "forth from the left" or similar.
I use the "critique sandwich" method, and I would encourage you to do the same. The critique sandwich method means you need to find a positive, a negative and another positive. So for example:
"The fabric is very rich looking and lux. The overall look still manages to be bland, perhaps they need more jewelry or flowers. The costumes do fit well and compliment the wide range of sizes and ages of the dancers"
If you wish to agree with a previous comment that is negative, try to also balance it within the critique sandwich:
"I love the arm coverage – that is so important to my troupe. I agree about the overall blandness. Mermaid skirts make everyone's curves look amazing."
The old adage of "If you have nothing good to say, say nothing" should also come into play here. However, if you only have positive things to comment, feel free to go for it!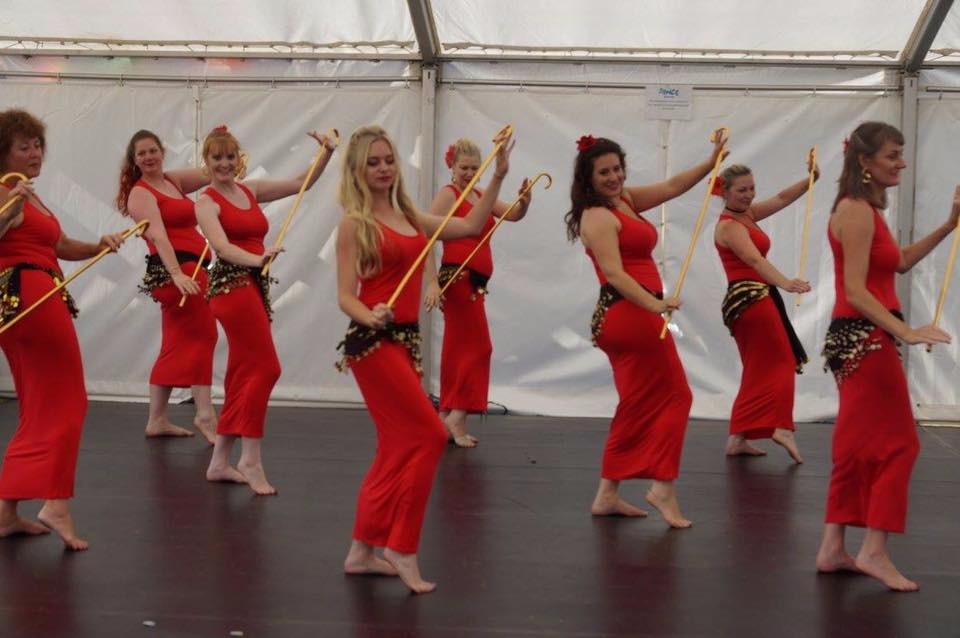 Although very simple, this red dress plus coin belt is a good choice for the range of dancers in this troupe. Beginner dancers (and more advanced !) may feel more inclined to purchase a costume that they can wear for every day in addition to belly dance performances.