About Me
Hi – I am Sara Shrapnell and I am a belly dance writer, teacher and performer.
My first book "Teaching Belly Dance" came out in 2014 and it was followed by "Becoming a Belly Dancer: From Student to Stage" in 2016, which is a stage craft handbook co-written with Dawn Devine, Alisha Westerfeld and Poppy Maya.
Both books have lots of help and advice for troupe leaders and costume planning. The final chapters of Teaching Belly Dance include a suggested performers contract and ideas on how to run a troupe. Chapters 3 & 4 of Becoming a Belly Dancer cover costume strategies, while Chapter 10 is all about no sew and low sew costuming, including instructions, that would work well for troupe wear.
I have also written for many belly dance blogs and magazines, including Gilded Serpent and Taqsim.
I started belly dance classes in 1993, and took the ASMED teacher training course, which I graduated in 2000. I also took a City and Guilds certificate in teaching adults. For the next three years I worked for ASMED to help other belly dance teachers, and built up a business of 12 belly dance classes a week. I have taught as an independent contractor, for the City, for dance studios and sports centers. My lessons cover all levels and most styles. My heart is in Golden Age Egyptian belly dance, but I regularly perform Modern Egyptian and American Cabaret. I had a Tribal/Gothic detour in the noughties. My students learn about all belly dance styles, from Turkish folk, to ATS, Khaligee to Gothic. I currently teach six classes a week – three beginners, one drills, one technique and one troupe/performance technique.
In 2011 I packed up my UK business, closed all my classes and moved to the San Francisco Bay Area to further my learning, teaching and performing opportunities. I now focus more on my teaching and writing than performing, but I love a good haflah!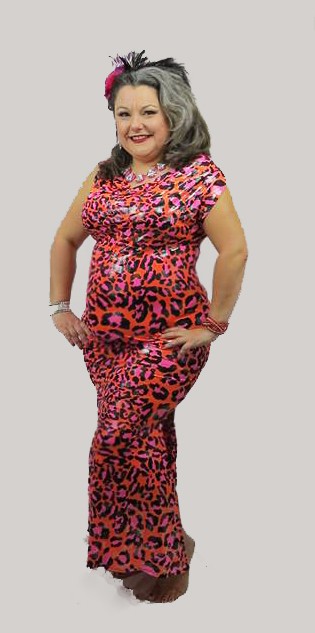 One of my favourite costumes to travel with is this bright pink animal print dress. It packs into hand luggage and clings to my curves. Not all plus ladies are happy in a dress this tight, but the colors make me instantly happy.