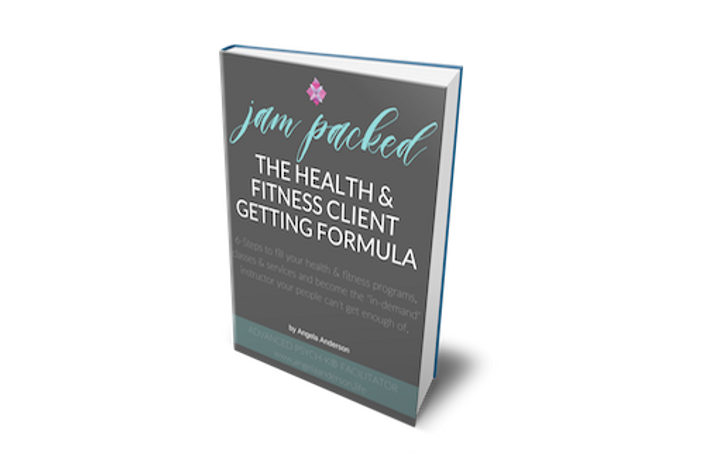 Jam Packed: The Fitness Client Getting Formula® Book
The 6-step formula to fill your bellydance classes and become the "in-demand" instructor your people can't get enough of!

New Book Reveals How To Finally Get More Clients (and get them consistently!)
...without throwing money at expensive advertising, banging your head against the wall in frustration, or fearing your classes will fizzle out and die

Dear Bellydance Instructor,

If you want to have more clients, this will be the most important book you'll ever read.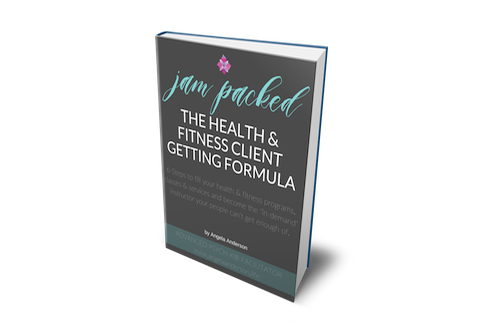 Exactly What You're Getting:
First of all, this isn't like any marketing, advertising, or business book you've ever read.
There's no fluff or filler.
It's proven to work, it's tailored specifically to health and fitness professionals ... and it's easy to read and implement.
At 44 pages, you can read it in an afternoon.
And It's About MORE Than Just business marketing.
See, you can use the same juicy information in this book to get people into any kind of bellydance, health and fitness class, program, service or product you offer - offline or online.
For example, I've also used the same system to fill up my monthly online groups every month.
A bootcamp owner recently used the same strategies in the book to sell out her mom and baby bootcamp months before it actually started.
A fitness instructor at a rec center is using the same strategies to fill up her classes ...and then used the same strategies to turn those fitness clients into regularly paying rec center members.
So like I said, there's more to this little book than "just" marketing.

Here's What You're Getting:
There are lots of questions you need to know the answers to so your clients and future clients clearly understand your value. Most instructors skip this part and pay a big price down the road (too much competition, wasting money on ads that don't work, frustration, etc.). (page 8)

Discover the key elements that most instructors don't use in their printed materials (business cards, flyers, and brochures) that cause "in one ear and out the other" syndrome and wasted money, paper and ink (page 12)

Discover how to turn small classes into big classes and NOT slide backwards with these four secrets (page 27)

The ONE thing to do FIRST before you pay promotional companies to put your logo on t-shirts, stickers, or other promotional items (page 24)

When gift certificates are a BUST and when they work like magic (page 25)

How to use the power of word of mouth, referrals, and juicy testimonials to grow your business - because it's free and very powerful! (page 25)

The ONE thing you must do, even if you're the most bellydance instructor, or else you will fail (page 6)

How to stop working with everyone with a pulse and a heartbeat so you can avoid burnout and frustration (page 11)

How your social media may be turning folks away (yikes!) and what to do instead, specifically as a health and fitness professional (page 14)

3 little known, but oh so easy and very inexpensive paid advertising venues (page 15)
But you know what you'll really love?


Action steps today to get people banging down your doors tomorrow! (no icky sales tactics or throwing $$$ at expensive advertising)
Listen. I know you got into this industry because you like to move, share your gifts and help others.
Also, if you don't like "sales", you're not alone.
This shouting all over the place "come to my classes! here's my schedule!" is exhausting.
I'd literally rather be in some back office doing data entry than feeling icky.

And that's why I've spent years developing the system I'll be giving you at the end of this book.
When you use it, two things will happen.
First, you'll be of genuine help to everyone you use it with.
They'll come away from the experience viewing you as a trusted friend and adviser...regardless of whether or not they work with you.
This is really important to you because it sets you up for a long-term relationship with them where they're significantly more likely to become one of those long-term clients we ADORE - positive, committed, consistent, and raving about us all over town.
The next thing you'll notice is this:
You'll know how to fill your classes, programs, and services!
And you'll do it without using any pressure, you won't have to convince anyone of anything, and you won't even have to talk directly about your class times, prices, locations, and all those details.
That's because of the way the system works.
I've created it using a combination of HUMAN PSYCHOLOGY and proven business and marketing strategies and a new approach called "Jam Packed: The Fitness Client Getting Formula®" that actually helps your future clients sell themselves, without hesitations!
Yes, you heard that right. Your clients and future clients will actually do part of the selling for you when you use this new approach I'm including in your book, for free.
The "cost" of this book is $19, and you get it + three juicy bonuses instantly as a download.
Take A Peek Inside The Book:

The first 28-pages are filled with this valuable content:
What is Marketing?
Your Marketing Foundation
What Makes Your Business So Special? Your Pricing Strategy
Your Business Systems Your Vibe Tribe
Your Marketing Collateral Your Social Media Presence Paid Advertising
WOM (word-of-mouth), Referrals and Testimonials Bring a friend/partner/spouse Special Occasions Signage
Demonstrations & Community Involvement Direct Mail & Email
Collaboration Promotional "Schwag"
The Truth About Gift Certificates Free Goodies & Newsletters Retaining Your Clients
The last 10 pages contain Jam Packed: The Fitness Client Getting Formula®, the 6-step formula to filling your classes and becoming the in-demand instructor your people can't get enough of.
Step 1: Spread Awareness Like Wildfire
Learn how to turn heads and get the attention of your ideal clients in this simple, 2-part formula + discover what you're doing that is repelling people and how to course correct instantly!

Step 2: Calm Your Competition

Discover how to easily STAND OUT and DELETE your competitors - including the couch and Netflix - and fears that your classes will get cut … even if you are new or if your format(s) is saturated.

Step 3: Value Added Education

We all dislike being "sold" to, but when you put your class schedule on social media and post flyers around you are being salesy! Learn how to educate your clients and future clients so that you position yourself as the trusted authority & advisor. This important step will take you out of the sales ring and help you become the obvious choice for your clients & future clients and have them whipping out their credit cards to sign up.

Step 4: Create and Lead Your Vibe Tribe

Trying to appeal to anyone with a pulse & a heartbeat because you are desperate for numbers is going to burn you out! This step will teach you how to identify & lead your tribe of people who will never dream of scheduling their dental cleanings and miss out on the chance to work with you!

Step 5: Self Care for Instructors

Your vibe attracts your tribe! You are the MOST critical component in your business, so if you are not taking care of YOU at the physical, emotional and even spiritual levels, you are not going to attract the quality people you desire and the success you deserve. Learn how to raise your vibe so you attract committed clientele who are all "take my money" PLUS learn best practices to avoid burnout, injury, and exhaustion.

Step 6: Off the Floor Income

Want longevity & happiness in the health, fitness, and wellness industry? There are more ways to earn a great living in the health, fitness & wellness industry without exhausting yourself and keeping busy from sun up to sun down. Learn (3) ways to create more income & impact . . . without always having to teach a physical class or trade dollars for hours.



To sweeten the deal, here are three juicy gifts for you:

GIFT #1: THE GUIDE TO GETTING GREAT TESTIMONIALS
WOM & testimonials are powerful ways to filling your classes, programs & services. But they can also HURT you instead of HELP you, if you don't know how to ask for and craft a compelling testimonial. Discover the strategy & exact questions to ask so your testimonials stir that "sign me up now" feeling for new clients.
GIFT #2: THE PERFECT PRICING FORMULA
Stuck with how much to charge? I walk you through the most critical considerations about fitness pricing and provide you with three magic equations so you arrive at the perfect price for YOUR health & fitness classes, services & programs. Get pro tips and the insider scoop about free offers, discounts, specials and more!
GIFT #3: SOCIAL MEDIA ON AUTOPILOT
Make the power of social media work to your advantage so you warm up potential clients, get seen and add tons of value without spending all day on the computer! I show you how to quickly and easily use Instagram, Facebook, YouTube, and Pinterest. Connect with and build powerful relationships + automate it!
As soon as you place your order, you'll get an automated receipt and an email with instructions on how to access your book and bonus gifts.
You can access all of it anywhere, immediately, 24/7, without having to wait for the mail delivery.
Your Instructor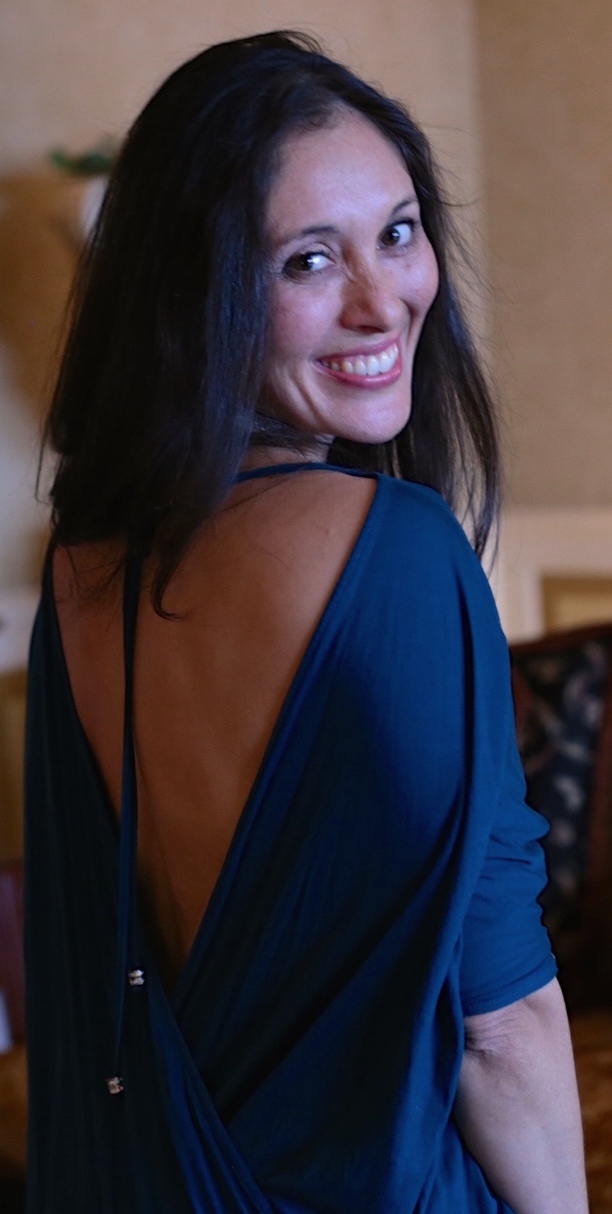 Successful studio owners, dancers, and health and fitness professionals work with me to streamline their business and learn how to use their mind to break through their limitations.
With over 20 years in personal development and entrepreneurship in the areas of subconscious mind reprogramming, health & fitness, and business, I can show you how real change happens.
As an Advanced PSYCH-K® Facilitator and former employee at the PSYCH-K® Centre International, a leader in brain-based transformational coaching, I can show you how to leverage the best of neuroscience and share with you proven mind management tools to unlock and transform the vault of your self-limiting, self sabotaging, negative beliefs.
When I'm not working with clients from all over the world through the power of the internet, I'm living the good life with my husband and two boys in Colorado, nestled at the base of Sangre de Cristo mountains and overlooking the Sand Dunes National Park & Preserve ... and world traveling.
If you also totally get how important it is to take care of your mind, body, and spirit while giving your all to your business, family and more - you're going to love this work.
Course Curriculum
Download the book - Jam Packed: The Fitness Client Getting Formula®
Available in days
days after you enroll
Bonus Gifts
Available in days
days after you enroll
Frequently Asked Questions
When does the course start and finish?
The course starts now and never ends! It is a completely self-paced online course - you decide when you start and when you finish.
How long do I have access to the course?
How does lifetime access sound? After enrolling, you have unlimited access to this course for as long as you like - across any and all devices you own.
What if I am unhappy with the course?
We would never want you to be unhappy! If you are unsatisfied with your purchase, contact us in the first 30 days and we will give you a full refund.